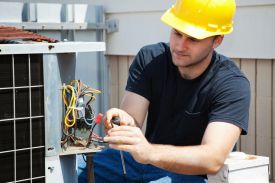 Do any of the following problems sound familiar? Call us today at: 818-993-8713
Air conditioner won't turn on
Dusty, dirty, or moldy-smelling air
Excessive indoor humidity
Air conditioner fan not working
Air conditioner cycles on and off too frequently
You need expert air conditioner service in the San Fernando Valley! Air Conditioning Unlimited can send a certified technician to your home to quickly diagnose the problem and provide a solution. We service and repair all makes and models of air conditioners.
Sometimes fixing your cooling problem might be as simple as installing a new part to replace a broken or worn out one. In other cases, the issue might not be caused by the air conditioner at all, but by a deficiency in your home's ductwork, insulation, or insulation. As an expert HVAC company, we know how to identify the cause of the problem correctly so we can provide a targeted solution.
What if Your Air Conditioner is Beyond Repair?
There are many benefits to a new air conditioning system. Today's new air conditioners are cost effective providing money saving efficiency. You can count on the experts from Air Conditioning Unlimited to give you an honest overview of the pros and cons of replacement vs. repair for your old ac unit, and then let you make the final decision as to how to proceed.