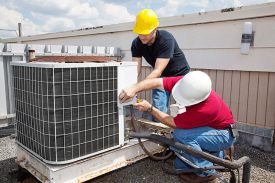 For over 17 years, Air Conditioning Unlimited, Inc. has been serving the San Fernando Valley's commercial heating, air conditioning needs. Our company was founded on and continues to pride ourselves on providing dependable service and quality craftsmanship.
Air Conditioning Unlimited's technicians focus on keeping your HVAC system working correctly without down time. We can make suggestions to help your business become more energy efficient and reduce the risk of unexpected expenses from HVAC failures in your commercial buildings.
Air Conditioning Unlimited's team offers quick response emergency repair and troubleshooting services for all commercial and industrial locations. Regardless of your building size, we can get your heating and air system back on and get you back to business. We service warehouses, retail stores, medical facilities (including hospitals), and business complexes.
Our certified, reliable technicians are committed to our customer's satisfaction, including meeting budget and time constraints. Air Conditioning Unlimited tests, upgrades, installs and maintains all types of HVAC systems.