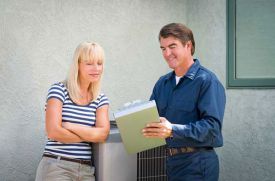 The professionals at Air Conditioning Unlimited, Inc. understand how overwhelming it can be to identify and solve even the simplest HVAC challenges in your home. It is our goal to provide you and your family with the most up to date information regarding comprehensive solutions for all of your residential heating and air conditioning needs. We want to be the company you call for all of your heating and air conditioning needs, which is why we provide you with the best solutions that are safe and cost effective.
Our professionals are here to solve your heating and air conditioning problems fast, day or night, to ensure we keep your family comfortable. We hope you never have a problem, but if you do, we want you to know we are here to help.
We understand you have better things to do than wait around for service, so our technician will arrive when promised. He will inspect the system, report on any concerns and provide a clear quotation for any repairs. Subject to your approval, most repairs are carried out immediately and the air conditioner is backed up and running better than ever.
We have the knowledge and experience to provide the best and most affordable solutions for your home, reduce your energy bills by increasing your homes efficiency and make your home more comfortable for your family. You may request a quote online or set up an appointment today!