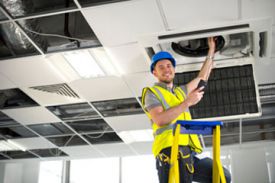 Air Conditioning Unlimited, Inc specializes in full range of heating, cooling and ventilation solutions for commercial, institutional, and industrial markets. Our experienced staff is knowledgeable about all commercial HVAC systems so we exhibit the capability to meet all your mechanical needs from design/build and installation to commercial heating and cooling service and maintenance programs.
The team at Air Conditioning Unlimited strives to offer the most efficient, economical HVAC design-build solutions for any commercial property. Designing totally brand-new business HVAC units along with upgrades and retrofits for existing HVAC systems, we pride ourselves on designing and building heating, ventilation and cooling systems that function optimally for your needs. The design process begins with a thorough examination of your building as well as your existing heating, ventilation and air conditioning system.
We believe the best way to understand your commercial HVAC needs is to look for ourselves, and to listen to your needs. Only then do we start exploring options for your system. We will evaluate your current HVAC system needs and help you anticipate the future demand on your system. Our goal is to get you the most reliable, powerful, long-lasting climate control system for the lowest cost possible.
After we design your HVAC system, our build team moves quickly to get the system built and installed according to those specs. We do extensive testing to ensure the entire system is functioning at peak efficiency. Our job doesn't end with the design and build phase we also provide a 10 year warranty.
Our HVAC services include:
HVAC Design/Build Services
Ducted supply, return & exhaust
Unitary heat pump
Variable air volume
Fan coil
Induction
Energy recovery
Direct expansion cooling
Steam, hot & chilled water piping