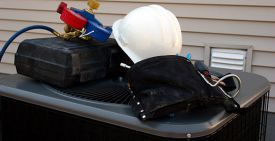 Air Conditioning Unlimited, Inc. is a full service family owned and operated Heating and Air Conditioning Company located in Granada Hills, California. We are dedicated to  providing a simplified approach toward expert and economical solutions for the customer's HVAC needs. This is being achieved daily by a highly skilled family team who exhibit unquestioned and deliberate honesty.
We serve all of the San Fernando Valley, and neighboring regions including the Santa Clarita area, and Eastern Ventura county, including the Moorpark, Simi Valley and Thousand Oaks areas.
We provide our customers with high quality products and craftsmanship at competitive prices.  The Air Conditioning Unlimited team is always available to address your needs and to answer your questions before, during and after your installation or service call is completed. We always stand behind our work. 
Our technicians and installers have great communication skills; they are polite, punctual, and experienced. Our technicians regularly attend factory training to keep up with the latest technological advancements within the HVAC fields.  In addition, they must pass a background check prior to being hired and are required to attend weekly safety meetings.  While working in your home or place of business, our technicians and installers use drop cloths to maintain cleanliness.
We are dedicated to addressing our customer's needs, and our goal is 100% customer satisfaction every time we enter your home or place of business. Having earned a reputation for outstanding service, we repeatedly earn referrals from both residential, commercial, and industrial clients.