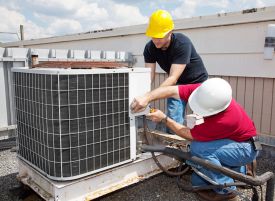 If you are a commercial property owner, the last thing you want is for high energy costs related to an old or malfunctioning HVAC system to start eating away at your bottom line. Working with an experienced commercial HVAC contractor in the San Fernando Valley like Air Conditioning Unlimited can help prevent this from happening. We understand the special needs of commercial clients and we get the job done quickly to minimize down time at your business while still complying with all relevant building regulations and zoning requirements.
We offer the following services for commercial properties:
Commercial HVAC Service: When your commercial heater or air conditioner goes out, the disruption can really hurt your business. Fortunately, you can turn to Air Conditioning Unlimited. As your commercial HVAC contractor in the San Fernando Valley we respond quickly to your needs and provide lasting repairs to restore comfort and good indoor air quality to your property.
Commercial HVAC Maintenance: We offer planned maintenance packages to keep your commercial HVAC equipment working in top condition. This helps improve efficiency and reduce your operating expenses in terms of energy costs. Plus, companies who make us their commercial ac contractor in the San Fernando Valley and buy a maintenance plan enjoy discounts on repairs.